New Release - Vikram Rana is Back!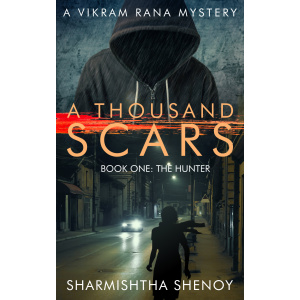 Excerpt from the book
 Yet, after I met Rita, I could tame the devil inside me for quite a long time. I had first seen Rita in the office. Rita had joined as a management trainee in the same firm where I was a contractor.
Rita was tall and lovely. As she walked past me, taking long-striding walks towards the cafeteria, I fell in love with her at first sight. Prince's music started playing in my head, "Could you be the most beautiful girl in the world? It's plain to see, you are the reason that God made a girl…". Yes, I was sure that God made her for me. "When the day turns into the last day of all time, I can say I hope you are in these arms of mine." Yes… the moment I saw her, I knew that she was mine. She was so beautiful that she could even turn me, a woman-hater, into mush. I was willing to turn over a new leaf just for her. All the bad things that I did were obliterated from my mind when I saw her. She was the one I knew who could tame the devil residing inside me. After I met her, my urge to kill reduced drastically. I wanted to build a small family with her, leaving my previous actions behind me, actions that disgusted me when I thought about them.What surprised me was how could I fall in love with a woman when all women in my life have been so mean to me? I don't know. Before I met her, all women were sluts for me – except Rita. She was just so gorgeous. I wanted to jump and shout to the world, "Fuck yes! I have found my soulmate."
I wanted to take her in my arms, stare into her eyes and say, "You are the one for me, Rita. You are mine. You just don't know it yet."
Why should you buy books from this site?
In other e-commerce platforms, the seller is charged a hefty fee for putting their books up for sale on their sites. This leaves me with a negligible profit (Rs. 5 or Rs. 10 max per book, depending on the courier charges and the book prices.) If the book is returned by the customer for some reason, I make a loss as the courier charges are deducted from my account. In summary, everybody profits except for me if I sell my books on popular e-commerce sites.
Hence I have opened my own webstore. Don't worry – your data is perfectly safe. I don't store any of your data. I have SSL which means my website is safe from hackers. Hope you will buy books from my site, which will allow me to continue to print and sell my own books.