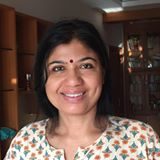 Sharmishtha Shenoy is the author of the Vikram Rana Mystery Series. The books available under this series are: "Vikram Rana Investigates", "A Season for Dying", "Behind the Scenes", "Fatal Fallout" and "Silent Witness".
She has also written another thriller, "Murder in the Chowdhury Palace", published by Vishwakarma Publications.
Her books have reached #1 position at Amazon and got the coveted orange tag of  #bestseller
Her short stories have been published in efiction magazine and Woman's era. She loves writing murder mysteries, the kind of books that she likes to read. Her favorite authors are Sir Arthur Conan Doyle and Agatha Christie. She also likes the work of Satyajit Ray – especially the Feluda Series.
Before starting to write, she had been an IT professional and had worked in TCS, Satyam, Infosys, and Microsoft.
She is a big foodie and enjoys Biriyani (both Hyderabadi and Awadhi versions) and rasgullas like most Bengalis. She is also a lusty singer of the bathroom singing variety.
She was born in Calcutta. She is an M Tech from the University of Reading, Great Britain and had received a 100% British Government Scholarship to study there. She lives in Hyderabad.
Though she is happily married to Mr. Shenoy in real life, in her fantasy world she is wedded to her creation, Vikram Rana.  You can get to her blog by typing the word "Sharmishtha Rana" into Google. No, seriously, try it.
You can reach her at [email protected]