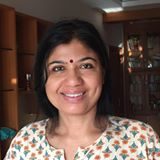 Sharmishtha Shenoy is the author of the book Vikram Rana Investigates and A Season for Dying.
Her book "A Season for Dying" reached #1 in hot new releases. It remained within #10 in bestsellers->kindle ebook > Crime Thriller and Mystery throughout the month of June and July 2017.
She has won the first prize  for a short story writing competition by Typotic. Her short stories have been published in efiction magazine and Woman's era.
She loves writing murder mysteries, the kind of books that she herself likes to read. Her favorite authors are Sir Arthur Conan Doyle and Agatha Christie.
She also likes the work of Satyajit Ray – especially the Feluda Series. She was born in Calcutta and has done her post-graduation from University of Reading, Great Britain. She lives in Hyderabad.
You can reach her at Sharmishtha.shenoy@gmail.com